Why choose Townsend for your wedding car hire?
We know that your wedding day is one of the most important and memorable events of your life, but organising it can be chaotic and frustrating. With wedding car hire from Townsend, you know that you'll make it to the altar in time – and you'll arrive in style as well.
With hire prices starting from just £200 – depending on journey length, date and number of trips – we can suit your transportation needs. Of course, you don't need to worry about driving, as our 1961 Rolls Royce Silver Cloud II is chauffeur driven, to give you peace of mind and an extra dash of well-deserved luxury.
With the same high level of maintenance as all our hire cars and vans, you can be assured that the Silver Cloud II will be in excellent running condition and immaculately clean, and that you won't be struck by the misfortune of a break-down on your wedding day.
What's special about our Silver Cloud II?
There are few cars that encapsulate hand-built luxury more than Rolls Royce. This classic 60s model is awash with sumptuous features and brimming with a uniquely British retro charm that can really elevate your wedding day.
In a classic Rolls Royce, simply getting from point A to point B is not the focus of the car – unrivalled passenger comfort is king in the Silver Cloud II. Of course, with a stunning coupé body in Oxford Blue that has been lovingly crafted and proudly bears the famous 'Spirit of Ecstasy' statuette, you can achieve a truly classic level of style and sophistication without the brashness of more modern luxury cars. The Silver Cloud II has the grace needed to really add an air of timelessness to your wedding photos.
Inside, you are greeted by elegantly hand-stitched leather seats and a dashboard replete with large areas of varnished oak, signalling that this is no ordinary car. Of course, easy access in a wedding dress is vital in a wedding car, and the large rear doors of the Silver Cloud II make ingress and egress as effortless and graceful as possible.
We know that on your wedding day, you want to feel special. Choosing Townsend for your wedding car hire is an inexpensive way to achieve this and could be the ultimate way to arrive at your wedding in the Rugby, Daventry and Northampton areas. Feel free to contact us to discuss your plans, as we are entirely flexible in order to help your day go off without a hitch.
Our Wedding Car Hire:
Arrive in style on your special day in our stunning 1961 Rolls Royce Silver Cloud II in Oxford blue, chauffeur driven and presented to the highest standard with ribbons in the colour of your choice.
Prices range from £200 depending on the length of the journey, amount of trips, weekday or weekend etc.
All needs catered for, call our office today for more information and a free quote on 01788 577 866 or visit us at 1 Somers Road, Rugby CV22 7DB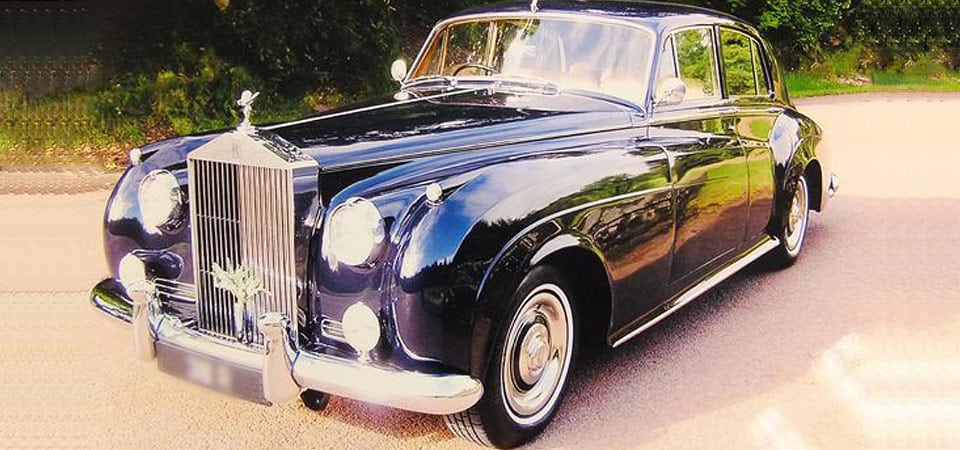 Visit our wedding car hire website
Simply select your car, location, date and we provide the price. Prices start from only £28 per day, so it's worth the check!