Townsends 4×4 Hire
For travel in comfort, when you need that extra bit of space or you're in need of a towing vehicle for transporting goods or furniture, hiring a 4×4 might be the best solution for you. When it comes to picking the right business in the Rugby, Northampton or Daventry area for vehicle hire, it's essential to choose a company that can provide excellent quality vehicles that can perform as you need them to – and Townsends 4×4 hire can provide that service.
With a variety of different 4×4 type vehicles available to suit your needs, we have cars suited to travelling long distances, staying close to home and everything in-between; from high-capacity vehicles capable of transporting a large number of items to cars with high comfort and luxury to make your next journey that bit more enjoyable. Whether you're going to the city or visiting the countryside, our 4×4 hire vehicles can get your from A to B quickly and easily.
At Townsends, we believe in providing the best possible service to our customers, and that's why we offer excellent rates on good quality vehicles – providing you peace of mind as well as a price that can't be beaten. Starting at a low daily price, with discounts for longer-term hire, our 4x4s have all you need, including the option for an included tow bar on your chosen vehicle. Just get in contact with us to discuss the specifics of what you need when it comes to your vehicle hire.
If you're considering 4×4 hire in the Rugby, Daventry and Northampton areas for whatever reason, from replacing a broken-down vehicle temporarily to a week away, then we have the cars to provide you with the transport you need. We cater for anything from single individuals to large families, and we have the vehicles to match, so if you have specific needs when it comes to your 4×4 hire, just ask – we'd be happy to help match you with the perfect vehicle. We have many satisfied customers, and we'd like you to be one of them.
Whether you'd prefer to fill out a form on our website or contact us directly, we can provide you with a full and accurate quote for the hire of our 4×4 vehicles. Just drop us a line to find out what models we have available, and when, and we can provide you with all the information you need to travel with style.
4×4 Vehicle Hire
We have various 4 x 4 vehicles available for hire, please call either our Rugby or Daventry Branch for current model availability.
Mitsubishi L200 diesel, full leather interior, with Tow Bar (usually available).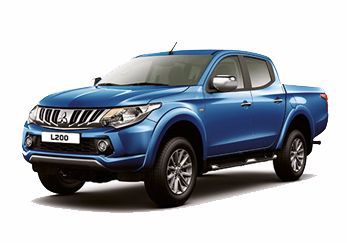 Simply select your car, location, date and we provide the price. Prices start from only £34 per day, so it's worth the check!